the artist commonly known as technogod
tack at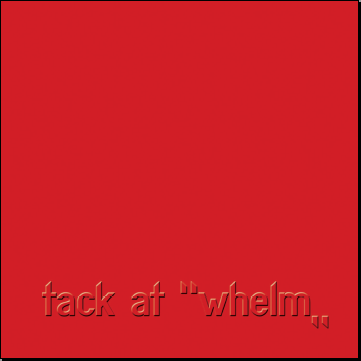 press

fiancheggiatori dell'autonomia di produzione indipendente e
colpevoli in concorso esterno alla libera creatività fuori dai
parametri dettati dal network socialista della silicon valley
tack at : the artist commonly known as technogod
"whelm" sommergere, sopraffare
a volte pensiamo di aver compreso
di aver imparato qualcosa che ci rende migliori
risaliamo dagli abissi con una sola idea sperando ci dia tregua,
un istante di respiro
un istinto ti spinge verso
è facile rientrare nella nostra quotidianità
nessun rischio, nessuna paura, se non quella di riamanere soli,
isolati, inutili
tack at si ispira a hrundi v. bakshi di 'hollywood party' e
chauncey gardiner di 'oltre il giardino' ambedue personaggi
interpretati da peter sellers. ambedue outsiders che finiscono al
centro dell'attenzione per puro errore. siamo una band non
invitata alla festa, e spesso guardata con sospetto e
incomprensione. eravamo fuoriluogo ai tempi delle posse,
del rock cantato in italiano, del nuovo cantautorato italiano, e
della nuova facebook generation dove non importa quello che
fai ma quanto cazzo ci sei..."whelm"!!!

"whelm" quinto album. 15 pezzi, 60 minuti di musica ...stilisticamente libero di provare nuove
soluzioni e innesti sonori mantenendo salda la cifra attitudinale. tack at (no extechnogod
please) ha, e mantiene il suo suono. è sempre e comunque riconoscibile. il programmato e il
suonato si attorcigliano come filo spinato e nessuno dei due ha il sopravvento. si passa da
atmosfere electrowave di "monochrome" e "jacques le noir"(cantata in duetto con nina temple)
all'electrofunk di "callboi" e "sockola" (featuring la misteriosa roz de faux, già presente nel
disco precedente 'pain trtn ment') con puntatine nella fuzz and bass di "employee of the
month" e il punk and bass di "punk's in the bank" (cantata in duetto con valenteena dei
valentines).
"whelm" è un agglomerato di ironia, sarcasmo, bmovie stupidità ed electroerotica.
occasionalmente saltano fuori anche brani un pò più impegnati come "thousand yard stare
(wtf)" dove si parla dello stress post traumatico e delle devastanti conseguenze
dell'esperienza del fronte che subiscono i ragazzi/soldato. sono maggiori le vittime di suicidi e
di atti di violenza causati dai soldati statunitensi che sono tornati dal fronte iraq/afganistan di
quanti siano i morti nella guerra stessa. la guerra non finisce mai per loro.
"atlantis babylon" parla di una manhattan che sta affondando, sommersa dalle tonnellate di
rifiuti che non riesce a smaltire, e dei diversi milioni (4?) di ratti che ne popolano il sottosuolo.
una città sopraffatta dalla propria ingordigia speculativa ... "if I can make it here, I'll make it
anywhere, It's up to you..." (new york, new york)
si gioca sempre col sesso, descrivendo le sue varie sfaccettature, la sua morbosità e
assurdità. "callboi" parla di un uomo misogino che sceglie di prostituirsi con donne per
vendicarsi... mentre "trysexual" esprime la noia di dover sempre essere informato delle
tendenze sessuali di tutti.
le grandi star fanno outing come strategia di avanzamento di carriera, dichiarandosi
possibilmente dopo un accurato sondaggio e in prossimità di una uscita cinematografica/
letteraria o discografica...booooring
in tema di sesso, "jacques le noir" racconta una notte di sesso estremo portata alla sua logica
conseguenza ...
tack at fa musica e vive per la sua arte
non la troverete spiattellata sulle copertine o sulle labbra degli opinion leaders culturali. siamo
out e molto off...
scavate ragazzi, scavate oltre la fosca superficie.

as technogod ... tack at
2009 "pain trtn ment" press
technogod after all this time has entered in the urban dictionary. you are an adjective -- a god of technology, computers and high tech, you are a god of technomusic -- djs such as mills, cox, hawtin, vath etc.
there's even a church of technology.
when the band called technogod decide on its name, it was exactly to criticize the enormous attention we humans give to technological innovations and the sproportionate dependency we have on modern conveniences without which we'd be completely lost. the human race is worshipping a technogod far more than it loves itself, for better or for worse
tack at : the artist commonly known as technogod -- a way to step aside from its technological moniker and slowly change its identity : tack at / at tack
"pain trtn ment" is the band's fourth full length album
"pain trtn ment" is the entertainment of pain. that sick, morbose curiosity we have with regards to other people's suffering. we are fed daily, with slabs of death, mutilations, fights, bombings on a constant treadmill of repetition to the point where we are completely numb
news are sold under the guise of information
it's all available - - there's more if you want : all you gotta do is pay, pray, pain trtn
it's technogod's 4th cd after "undo" released in 2001/2002 always trying to maintain a good perspective on irony, sarcasm, anger and the pornography of despair. it's a work in constant acceleration that never looks back, and gives no reprieve.
it's got its pop sides, it's funkier with strong elements of disco, electrostoner, glam, rock and roll, industrial punk...it's pure fun, farting in the face of artistic integrity. it's like vomiting against the wind with the car windows down. it's stylistically free and it aims to please
pain trtn ment :: is aerobics for your preconceptions. pilates for your prejudice and dares you to take it all off and show us your sense of paradox
pain trtn ment :: the more it hurts, the more you will realise that unfortunately you're still alive... if you didn't feel anything...we're over and out.
2001

"undo" press
1996
"2000 below zero" press
1992

"hemo glow ball" press
as ramsazizz'
2007

"ramsazizz'" press
as y:dk
2003
"labiale" press
1999
">>" press
bio I music I video I album I photo I studio I fb I contact